We are pleased to announce that we have been chosen to represent the Purus Group in Ireland.
Purus is one of Scandinavia's leading suppliers and manufacturers of wetroom and level-access drainage solutions for the health, leisure, hotel and hospitality industries as well as domestic and social housing.
Channel 100 
Purus Channel 100 is a floor channel with a width of only 100 mm but with a flow capacity equalling that of broader channels. It's suitable for installation in most environments: heavy-duty industry with channels equipped with high-load mesh gratings, in kitchens, hospitals, laboratories where hygiene is important, but also in environments where interior design is important e.g. residences, in bare-foot areas, in spa-hotels where the channels then would be equipped with designed gratings.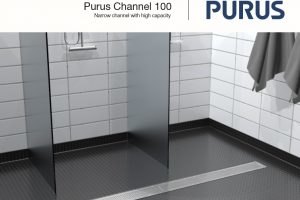 http://qbankfrontend.purus.se/deployedFiles/Channel100_Brochure_UK_2016.pdf
Please see below some of the products in the Purus range, but get in touch for the full brochure and information and specs of the products we can offer you on your project.
https://www.purusgroup.com/fileadmin/user_upload/Purus_Brochure_2018_Low_Res.pdf