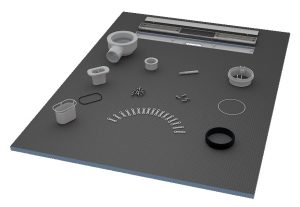 The Premium Pro Linear wetroom system offers a fantastic 50 litre per min waste to cope with high water flow, allowing for quick drainage in any shower. It also has an adjustable grate so can accommodate all tile thicknesses. The kit comes with easy to use instructions with a dvd that shows step by step how to install your kit. Within the additional waterproofing kit you have all products to tank & tape the area before tiling, to ensure 100% you never have a leak.
The shower tray bases are quick and easy to install and can be fitted easily by a Builder, Plumber or Tiler. They are easy to move as they are light (around 7kg) and can be trimmed to fit. They have a cement coated top that gives a perfect surface to tile to. The shower base can be trimmed quickly and easily to fit non-standard spaces.
Follow to easy to instal Premium Pro Floor Former system here; https://www.youtube.com/watch?v=gTHmzLE0IIM
Get in touch with us for more information, prices and sizes available. These products are normally available ex-stock.