Waterproof Membranes for Bathrooms and Wetrooms.
RIW Tilesafe is a  self-adhesive waterproof membrane designed for use prior to the application of ceramic tiles and natural stone onto timber and solid floors in wetrooms and other critical areas.
PLEASE FIND HERE THE TECHNICAL SPEC SHEETS FOR USE AND APPLICATION OF THE TILESAFE WATERPROOFING MEMBRANE.
RIW TILESAFE SPECIFICATION pdf..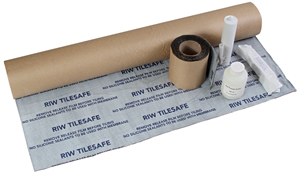 watch the TILESAFE INSTALLATION VIDEO here.
Tilesafe comes in 5m2 and 10m2 kits, with all components to complete the safe waterproofing of the wetroom. Each kit consists of;
Tilesafe Membrane
A self-adhesive waterproof membrane consisting of a 2mm thick rubberised layer, incorporating a woven glass fibre mesh on one side.
Width 1 Metre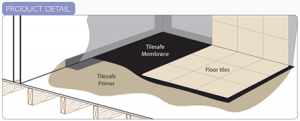 Tilesafe Reinforcing Tape
A 1mm thick self-adhesive tape for reinforcing all wall and floor junctions, butt joints and other detail work in the membrane. Width 150mm.
Tilesafe Primer
A quick drying acrylic primer for use prior to the application of Tilesafe membrane and Reinforcing Tape.
Tilesafe Jointing Compound
A high quality butyl rubber based sealant for use at all butt joints, pipe entries, wall and floor junctions.
Tilesafe Putty
A non-setting self-supporting putty for filling small gaps or voids around pipe entries etc.
Preformed Corners
Tilesafe Pre-Formed Corners Designed to simplify the installation of Tilesafe. Manufactured from tough but flexible polyethylene, the corner unit is placed into a corner prior to the installation of Tilesafe Reinforcing Tape at wall/floor junctions.
Tilesafe Reinforcing Tape
150mm wide self-adhesive waterproofing tape for sealing critical detail such as wall junctions, soap recesses, pipe boxing and other such areas prior to tiling.
Roll length 10m.